ALL AGES
SATURDAY OCTOBER 19th DIY&ACTIVISM FEST 2019
This is not only going to be a Fest full of amazing bands, both local and from other parts of the Midwest, but it's also going to be a night of solidarity and political activism representation, a night to learn more about the important societal and political fights we face, and to learn what we can do to be more informed and fight for our rights and the rights of others.
FEATURING:
REDBAIT (STL) - proletarian crust
(https://redbait.bandcamp.com)
PRIMITIVE RAGE - metal/grindcore/HC/ trans powerviolence
(https://primitiveragehc.bandcamp.com)
SUZI TRASH - surf trash garage punk
(https://suzitrash.bandcamp.com)
CONDUCTOR (COMO) - funny-como-post punk
(https://bandconductor.bandcamp.com)
MISERY STAIRS - Dan's new band
(https://m.youtube.com/watch?feature=youtu.be&v=yergrNqFqOA)
TENNIS CLUB - lo-fi garage slacker surf
(https://tennisclub.bandcamp.com/album/tennis-club)
KILLER TRASH (Joplin MO) - Psychedelic pop bedroom-punk
(https://killertrash.bandcamp.com/releases)
Super Blood Wolf Moon - post rock
Faulter
MORE TBA!
Representatives and speakers for:
PLANNED PARENTHOOD (www.plannedparenthood.org)
DEMOCRATIC SOCIALISTS OF AMERICA (https://www.dsausa.org)
VEGAN OUTREACH (https://veganoutreach.org)
PARTY FOR SOCIALISM AND LIBERATION (https://m.facebook.com/pslweb/about/?ref=page_internal&_rdr)
FREE VEGAN SPAGHETTI SERVED AT @ 6:30!
music starts @ 7:00pm
$10 / ALL AGES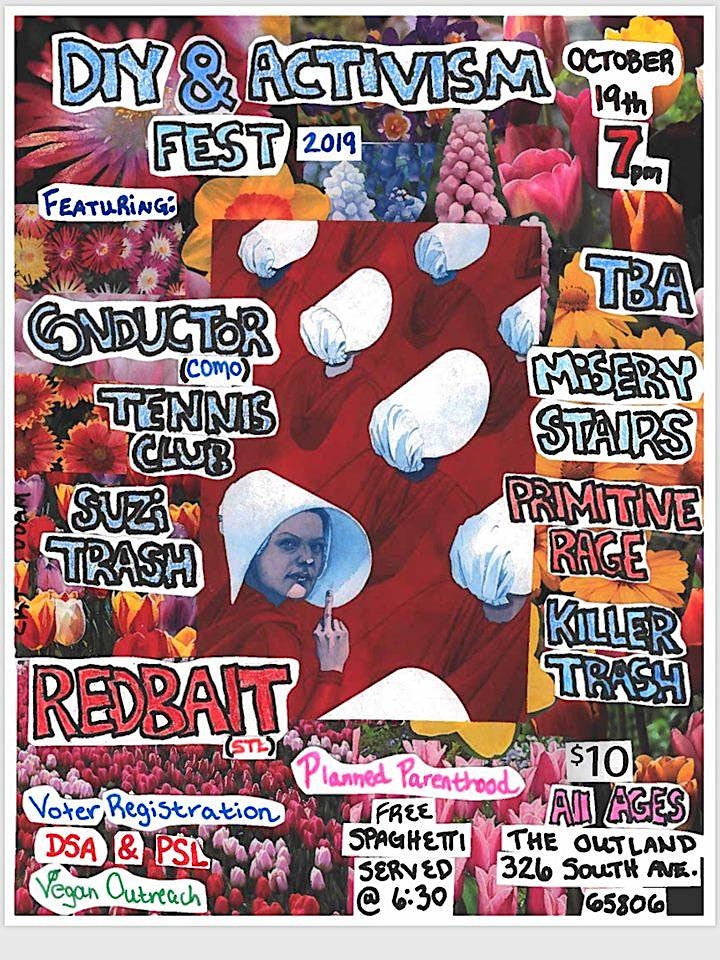 Venue Information:
The Outland
326 South Ave
Springfield, MO, 65806